S-18 Neoprene Cement All Purpose 8 oz Can


S-18 Neoprene Cement All Purpose
 8 oz Can
General Description and Uses:
S-18 cement is a versatile, low cost adhesive that has proven to be an outstanding all-purpose cement.
S-18 is used universally for bonding all kinds of porous and non-porous materials, such as glass, metal, leather, wood, tile, ceramics, cork, felt, fabrics, and many rubber compounds. S-18 is used for bonding SBR rubber and Neoprene to metals, and will bond many types of plastics to different materials. S-18 is not recommended for bonding pure gum rubber, vinyl, or materials where solvents used in S-18 will affect the material itself, such as polystyrene.
Films from S-18 have excellent water resistance, peel strength, and aging properties. Films have good resistance to oil, heat, and dead load. They also provide high resistance to aliphatic solvents, acids and alkalis.
S-18 is a fast-drying, quick-setting elastomer-resin blend. Bonding should be done within one-half hour for best results. 
S-18 is a widely accepted adhesive for the "drop-in" glazing of aluminum windows. S-18 produces exceptionally strong, waterproof bonds for glass-aluminum, and because it remains sufficiently flexible to expand and contract during severe temperature and weather changes, it will not crack glass. Common application is by plastic squeeze bottle or pressure flow gun, with the glass placed against the cement bead without an air-drying period. Excessive movement or testing soon after glazing is to be avoided. S-18 also bonds door kick-plates and is a fine sealer.
Although S-18 develops excellent film strength rapidly, at least 48 hours should pass after bonding before any tests are made. S-18 actually increases in strength with age until a maximum is reached.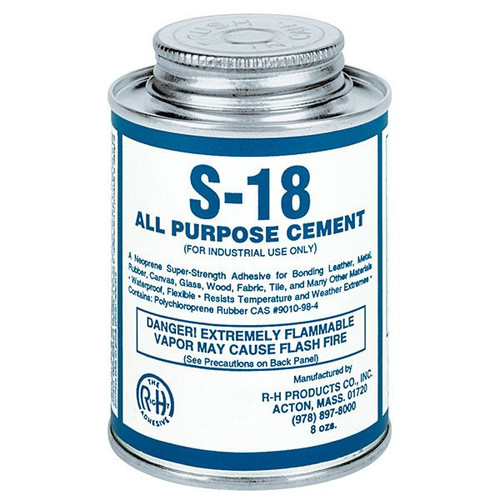 S-18 is used widely in the manufacture and repair of:
 

                                 • Leather 
• Cork 
• Cork to Rubber 
• Rubber Compounds 
• Felt 
• Fabrics 
• Glass 
• Metal
Technical Data:

Base:
Neoprene
Color:
Off White
Solvent:
Heptane, Toluene, Acetone, Ethyl Acetate
Viscosity:
Medium
Application:
Brush, Squeeze Bottle, Pressure Flow Gun, etc.
Solids:
18% (Approximately)
Net Weight:
7.2 Lbs. per Gallon
Temperature Range:
-30° to 200°F.
Tack Life:
10 minutes to ½ hour
Shelf Life:
18 Months
Flash Point:
18°F.
Precautions:
  Do Not Apply Below 40°F.
  Do Not Use Near Fire or Flame.
  Use with Adequate Ventilation.